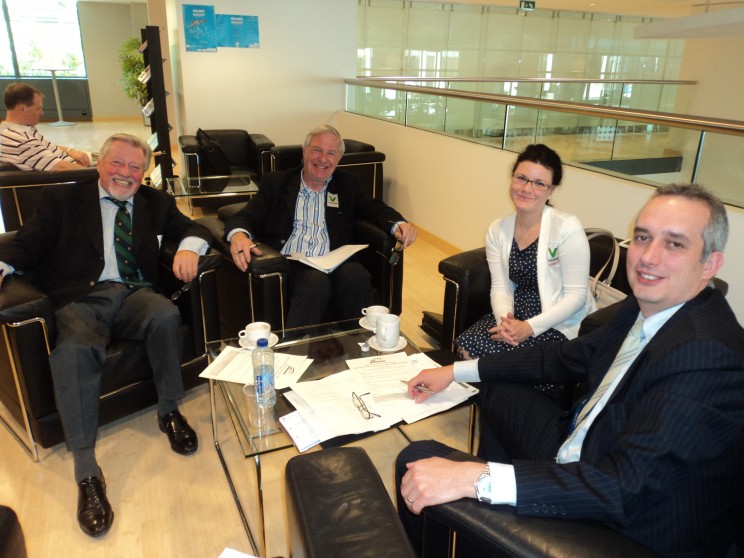 EAR-AER board of directors held a regular meeting on 13th May with the participation of Mr. Jean-Marie Van Houwe, Honorary Member (Belgium). Upcoming events and activities were discussed. The following decisions were taken:
 The board decided to create a committee of Honorary Members. A committee chairman will be appointed at     a   later stage.
The board gave the mandate to Louis Delcart to offer EAR-AER support to the Municipality of Maasmechelen, Belgium, for a twinning with Cumpana Municipality, Romania.
The board decided to organise a series of events under the label "European Regional Debates". The events' series should raise issues that affect regions throughout Europe. This should enhance the awareness of the importance of regions for the European Union as a factor of stability and sustainable growth. Three events will take place before summer break:
May 18th, 14:00-16:00: "Anti-corruption policy: a keystone to regional economic development", in cooperation with European Entrepreneur Magazine, Rue de Pascale 22, 1040 Brussels  http://ear-aer.eu/wp-content/uploads/2015/05/Draft-Anti-Corruption.pdf
June 3rd 12:00-13:45: "Illicit trade of tobacco products – a problem for the regions", Salon des Members, European Parliament, Rue Wiertz 60, 1047 Brussels
 End of June, tbc: "Stronger SMEs through better communication between the institutions"
Le comité de direction de EAR-AER a tenu une réunion ordinaire le 13 mai avec la participation de M. Jean-Marie Van Houwe, membre honoraire (Belgique). Les événements et activités à venir ont été discutées. Les décisions suivantes ont été prises:
1. Le conseil d'administration a décidé de créer un comité de membres honoraires. Un président du comité sera nommé à un stade ultérieur.
2. Le conseil d'administration a donné le mandat de Louis Delcart d'offrir un soutien EAR-AER à la municipalité de Maasmechelen, en Belgique, pour un jumelage avec la municipalité de Cumpana Roumanie.
3. Le Conseil a décidé d'organiser une série de manifestations sous le label «Débats régionaux européens". La série des événements devrait soulever des questions qui affectent les régions dans toute l'Europe. Les événements devraient améliorer la prise de conscience de l'importance des régions pour l'Union européenne comme un facteur de stabilité et de croissance durable. Trois événements auront lieu avant les vacances d'été:
18 Mai, 14: 00-16: 00: "La politique anti-corruption: une clé de voûte du développement économique régional», en coopération avec Entrepreneur Magazine européenne, Rue de Pascale 22, 1040 Bruxelles http://ear-aer.eu/ wp-content / uploads / 2015/05 / Draft-Anti-Corruption.pdf
3 Juin 12: 00-13: 45: "Le commerce illicite des produits du tabac – un problème pour les régions», Salon des membres, du Parlement européen, Rue Wiertz 60, 1047 Bruxelles
Fin Juin, à confirmer: «Pour des PME plus solides grâce à une meilleure communication entre les institutions"