Prime Minister Sheikh Hasina on Monday said the aim of her government is to ensure a peaceful situation in the country where they will live in happiness. "Our government's aim is to ensure a better life for people where they could live in peace and happiness," she said when a delegation of the EU Parliament met her at her official residence Ganobahban.
PM's press secretary Ihsanul Karin briefed reporters after the meeting.
During the meeting, the delegation members termed Sheikh Hasina as "an example for women empowerment".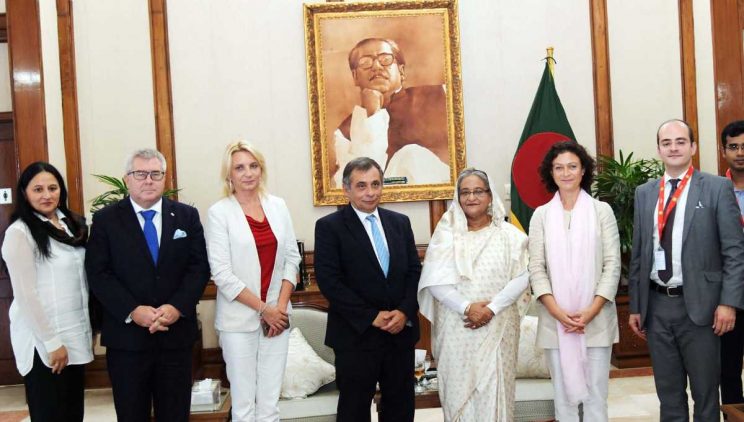 The Prime Minister said that the EU is the biggest destination of Bangladeshi readymade garments and recalled that the EU granted quota free access of Bangladeshi RMG during the 1996-2001 rule. "Many EU countries are now investing in Bangladesh," she said.
She appreciated the EU for their continuous support towards Bangladesh for continuing democratic process.
Ryszard Czarnecki, Elina Theocharous, Christelle Letard, Nikolay Barekov, Agnicszka Scigaj, EAR-AER Honorary Members Henri Malosse and  Madi Sharma, Guillaume Pradoura and Hazel Lincy Ebenezer were members of the delegation.
http://unb.com.bd/category/Bangladesh/working-to-ensure-better-life-for-people-pm-tells-eu-team/5818