During its five-day Fact-Finding Mission, EAR-AER President Nelu Neacsu, vice-president prof. Ionica Oncioiu and board member Louis Delcart met local prominents in this Western Balkan country who look for solutions to the many challenges regions and cities face in their search for a better life for their citizens. We visited the country just a few months after the EU started the opening phase of the accession negotiations with North Macedonia to become a member of the EU (on 19 July 2022).
On day 1 we visited the University "Ss.Curil and Methodius " in Skopje of our representative in North Macedonia Prof. Sasho Kjosev. The University is one of the six universities located in the capital Skopje. It is a Public Institution and includes 23 faculties and 5 Science Institutes.
Skopje is located in the north of North Macedonia, on the Vardar River. The entire urban area has about 595,000 inhabitants (2020), making it the largest city in North Macedonia. Skopje region contains almost one-third of the entire population in North Macedonia. The city was completely destroyed by an earthquake in 1963. Few buildings survived or could be recovered. So we were confronted with a new city. The old Ottoman bazaar on the right bank of the Vardar is the beating heart of the city opposite the old stone bridge over the Vardar. On the other bank of the river is an imposing square with 39 sculptures.
We learned that North Macedonia since August 2004 has 84 municipalities (opštini). They are assembled in 8 Regions: Polog Region, Skopje Region, Northeastern Region, Eastern Region, Southeastern Region, Vardar Region, Pelagonia Regjoin and Southwestern Region.
From day 3 on, we were accompanied by Mrs. Ksenija Vangelova, Founder & CEO of BICSR, who organised the meetings with the various mayors and who we thank for the tremendous efforts that she made. We visited Skopje town hall in the morning and were received by Mr. Zoran Gligorov, secretary general of the city of Skopje and Mr. Filip Siljanovski, Head of IT Department.
There were present also Mrs. Ksenija Vangelova, Founder & CEO of BICSR and prof Radmil Polenakovikj, Professor, Faculty of Mechanical Engineering, Ss. Cyril and Methodius University in Skopje & President at National Center for Development of Innovation and Entrepreneurial Learning, responsible for the economic and ecological projects.
The city up to now has been participating in 122 projects. The discussions based on Mr. Delcart's presentation of the goals of EAR-AER and the role of local authorities in ecological development were lively, and several perspectives for the participation of EAR-AER appeared and are to be worked out. More precisely, came to discussion a project about waste-to-energy to be installed in the region in order to cope with its polluting landfill and in order to take advantage of the green waste that the rural population does not assemble until now.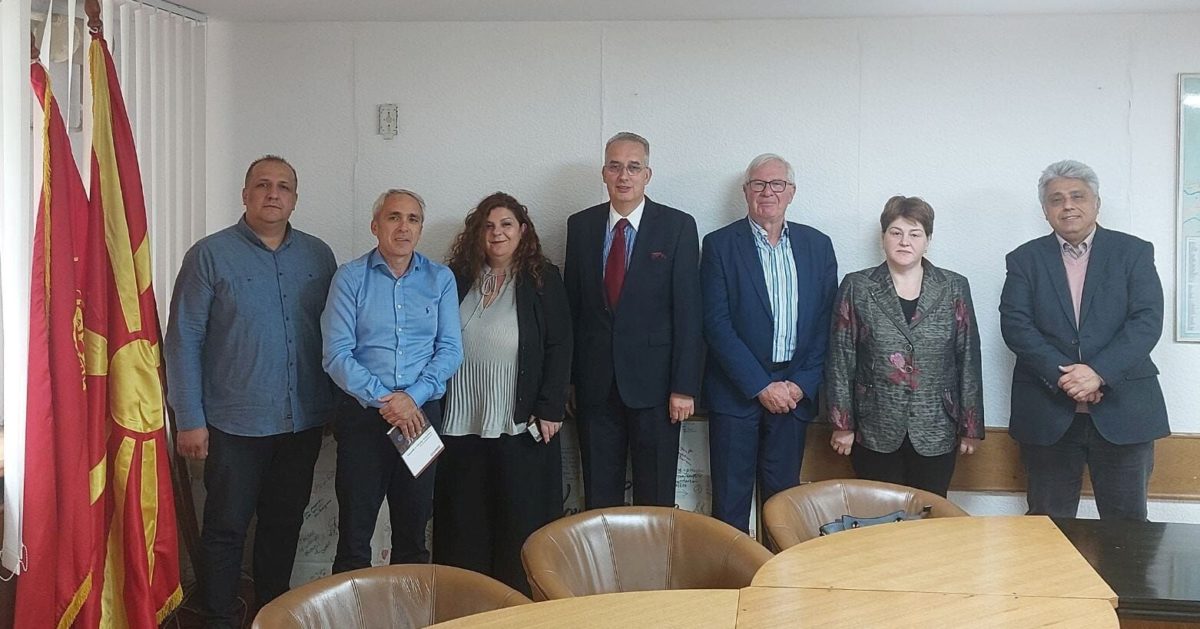 In the afternoon we headed by car to South-eastern Region and on the road, we first visited the Municipality of Novo Selo and we were welcomed by the Mayor Mr. Gjorgje Bozhinov.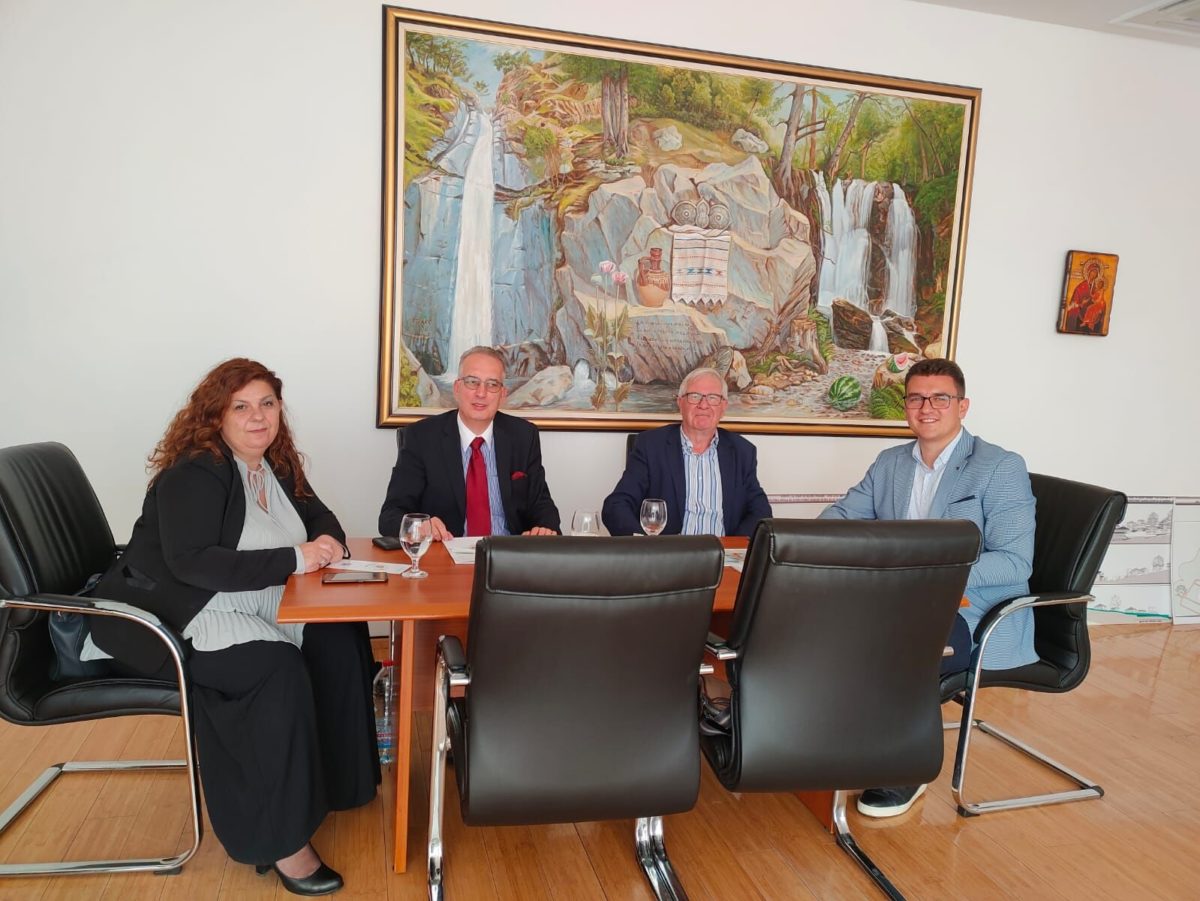 On day 3 we met the Mayor of Strumica, Mr. Kostadin Kostadinov. Mr. Kostadinov presented us with the four objectives of his city council.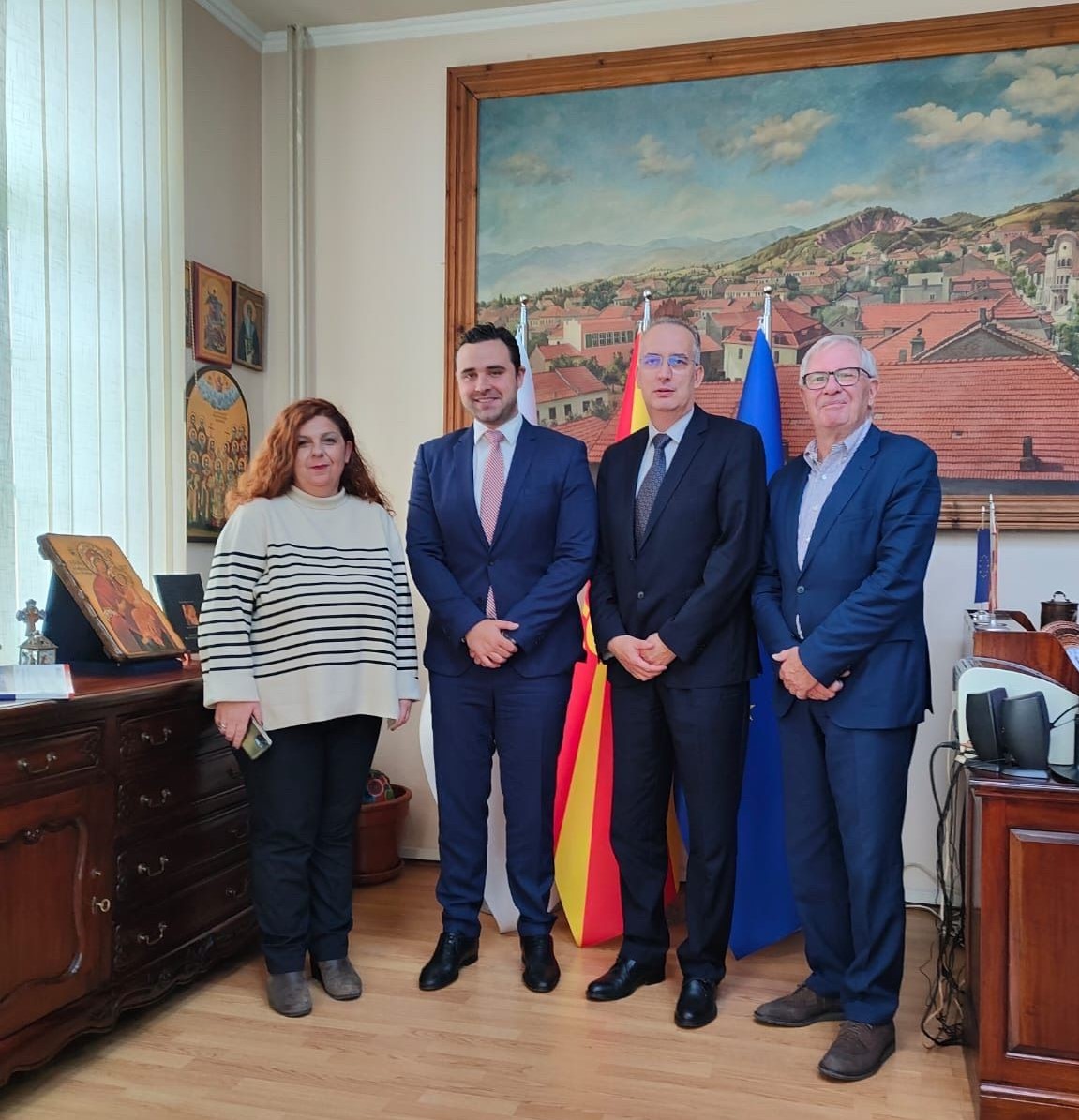 Strumica is the centre city of the South-East region. It is confronted -as is also the case in Albania- with 118 homes that have been built illegally and that are not connected to facilities and, moreover, have been built unsafely. In addition, he would like to install electrically powered public transport in his city in order to drastically reduce private car transport in the city and in the region. A boulevard through the city could promote this public transport. He is also looking for means to build a large park of solar panels for the benefit of the houses and to do ecopower transportation.
A short visit to the Europe House of Strumica introduced us to Ms. Ana Klesova, coordinator local network and event manager of Europe House and also to young people who have already been invited as youth mayor by the mayor of Strumica and who therefore had already experienced the local sensitivities.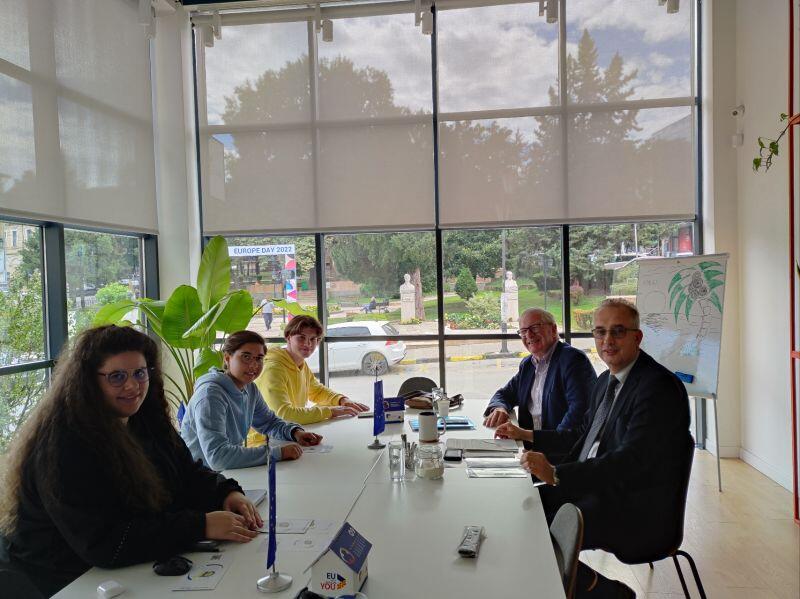 The last visit was to the Mayor of Vasilevo Municipality, Mr. Slave Andonov. In his municipality, there is a regional landfill that is illegally exploited and therefore not run according to the rules. This must be cleaned up, legalized and replaced in due course by other methods. That will require funds and technology, but also raise awareness among the rural population. This last theme is a general phenomenon.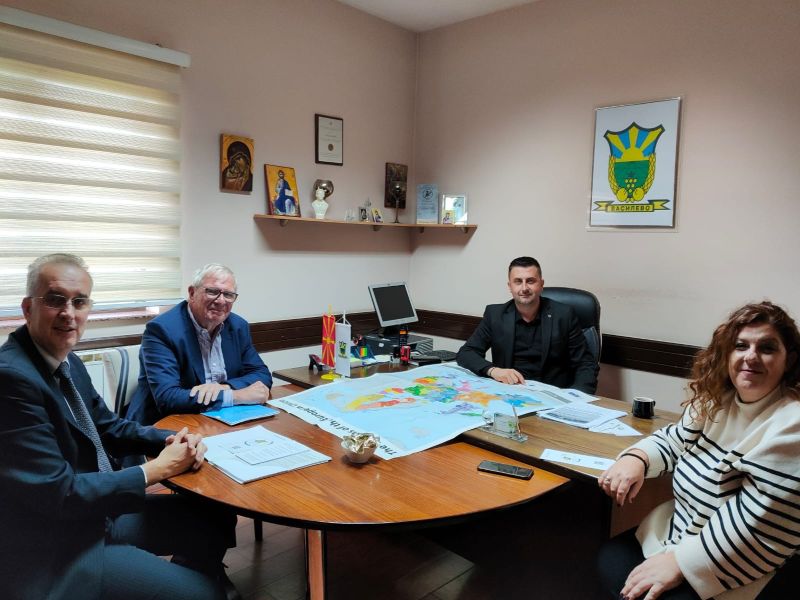 We were confronted with a country in transition that struggles with its identity and is therefore intensely followed by its neighbors. That identity often stands in the way of a view of real problems and their solutions. Especially in the capital we were confronted with a desire of the young population to try their luck in other places. But we also met young dynamic mayors who are passionate about helping their fellow citizens build a better life. We warned that the road to European integration will be long and bumpy. The influx of EU funds will not come naturally and will require creativity and consistency from the politicians. And also to focus on the real socio-economic problems. EAR-AER indicated that it could offer help with this because, as an Academy, it studies economic and ecological regional developments from a European helicopter view, influences through training, conferences, blogs and is willing to participate in projects, without ever taking the lead.
We are thanking the Government of Flanders for the financial support and Mrs. Ksenija Vangelova, Founder & CEO of BIC SR (Business Innovation Center Strumica) for being our host and facilitating the meetings.
Together with the Municipality of Strumica and Businees Innovation Center Strumica most probably will organize in April 2023 the 1st Forum on Local and Regional Economic Regional Development as we organised in Ankara in 2022 and Istanbul in 2021.